Nov 18, 2018
It's that magical time of year and it's also the best time to Tidy-Up!
Here are some Tips That Will Change Your Life- Laying a Foundation That Works
Despite constant effort to declutter your home for your family, have you noticed that your kids' papers, little stuff (including stuffed toys), and gifts still accumulate and multiply?
Have you ever had a mega-organizing and clean-out session…only to find that all too soon your home is cluttered again?
Sound familiar?
I wanted to share my view on this subject once again, realizing putting your house in order is an essential first step to meaningful everyday life.
I teach at a Montessori school. And a few week ago I just completed guiding our Montessori Home Set-Up E-Course for the second time. (This course is offered only once a year in September).  It is a course designed to help you finally start implementing Montessori at home without confusion and overwhelm.
More than ever, I realized my organized home made it  ALL possible for me.
People often say "I don't have time" or "I'm too overwhelmed to start."
I've seen lots of common themes over the years from my students taking e-course- for example, one mom reached out to me with her challenge – she said: "I would love to declutter more of our home. One obstacle is that my 4-year old is very attached to all his stuff – including broken toys and cheap plastic toys given to him as gifts."
The root of the problem here is her mindset: broken toys are clearly trash – AND we don't have to ask our children's permission before discarding trash.
Great news!
I have an answer for you for these exact challenges!
Review the E-Book below to figure out how and where you can start with the tidying-up process.
Before you dive into the E-Book, I want you to know that you are not alone – below are a few of comments we have received about the challenge of decluttering, tidying-up, and organizing:
Victoria says:

Ann says: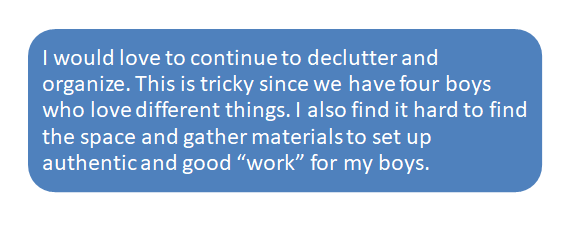 Sarah says: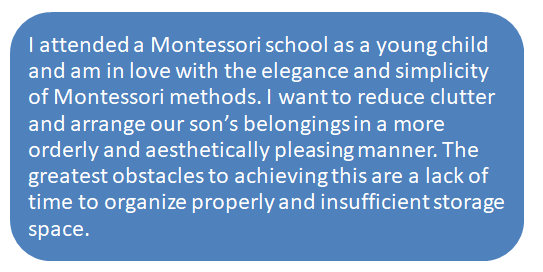 Marine says: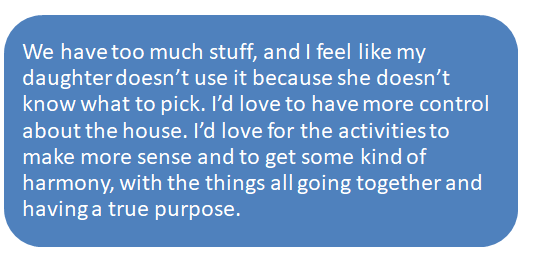 Lata says:

Anne-Laure says:

Julie Joyce says:

Shelby says:

Haylee says:

Nicole says: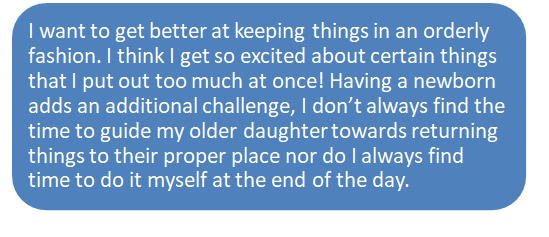 Remember…even the smallest adjustments count!
Happy Thanksgiving, from our family to yours.
If you enjoyed this post,
sign up to get FREE updates!